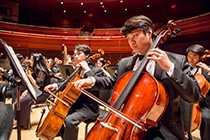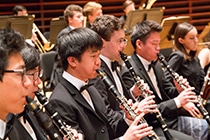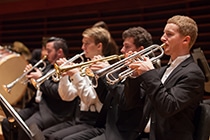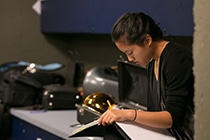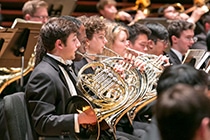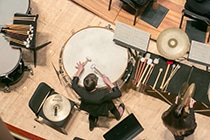 You can support our mission and growth by donating now.  Each dollar you help us raise supports unrivaled music education and performance opportunities for hundreds of talented and dedicated young musicians.  Annual tuition and other earned revenues cover only approximately 40% of the annual operating budget. We also need your help, and rely on your generosity to help fund the PYO organization and ensure that we are able to continue to fulfill the program's important mission within the community.
Become a part of the PYO family with a gift today! Your generosity will ensure that all young musicians, regardless of financial need, receive the best opportunities in music education in Philadelphia.
Donate Online:
Make a Gift
Donate by Mail:
Download and complete the Donation Form, and mail to the following address with a check payable to the "Philadelphia Youth Orchestra"
Philadelphia Youth Orchestra
P.O. Box 41810
Philadelphia, PA 19101-1810
Donate by Phone:
Please contact our office at 215 545 0502 to make a donation with a Visa, MasterCard or American Express credit card.
Other Special Giving Options:
Matching Gifts: Many corporations have a matching gift program in which their employees may participate. Often, a company will match or sometimes double a charitable contribution made to a nonprofit organization by an employee. Please check with your company to see if it has a matching gift program, and submit the requisite forms with your donation to PYO.
Gift of Securities: If you have stock that you've owned for more than a year and is worth more today than when you bought it, you may receive two tax advantages by giving the shares directly to PYO.
You will be eligible for a federal income tax charitable deduction, as if you made cash contributions. And, the deduction equals the fair market value of the stock when you donate it so you avoid the capital gains tax.
Gift to Offset Roth IRA Conversion: In 2010, taxpayers had the opportunity to roll over tax deferred savings into a Roth IRA resulting in a short-term increase in declared income. A charitable deduction could help ease this larger tax bill.
Gift from your Donor Advised Fund or Private Foundation: Another option is to direct additional gifts from your donor advised fund, or exceed your 5% required minimum distribution from your private foundation.
The PYO Music Institute is a 501(c)(3), charitable organization. Contributions are tax-deductible to the extent permitted by law. Official registration and financial information concerning PYO can be obtained from the Pennsylvania Department of State by calling 1.800.732.0999. Registration does not imply endorsement.
Questions?  Contact:
Danielle Johnson
Development Director
djohnson@pyomusic.org