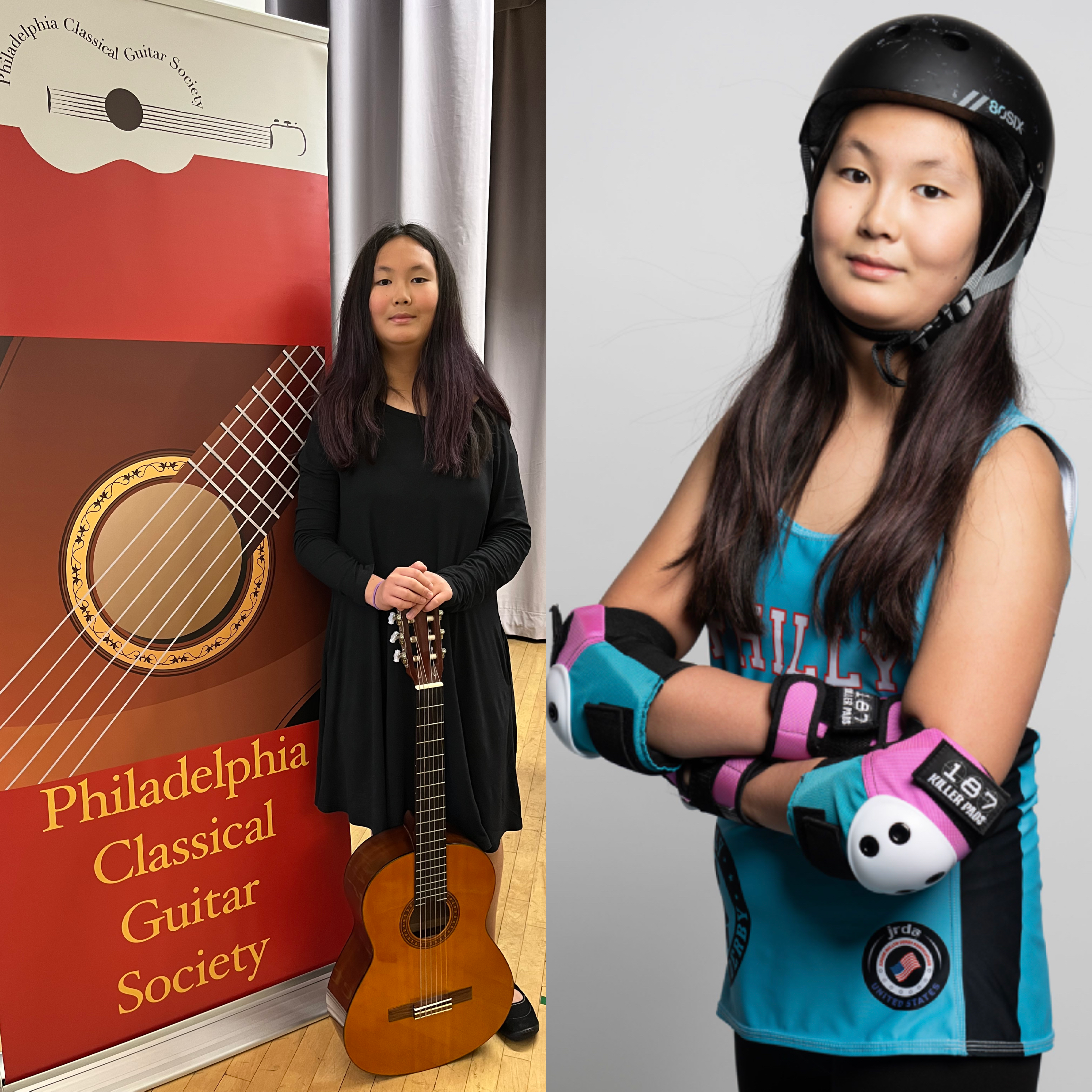 What school do you attend?
Springfield Township High School
What grade are you in?
9th grade
What do you enjoy most about being a member of PYOMI?
I'm in two groups with PYOMI. Overall, it's been such a great experience. I just love making music and learning new approaches to playing the guitar. The teachers are amazing, and I'm learning new techniques and lots of music theory.
In Pizzicato Players, I enjoy learning how to play as an ensemble. I also love the songs we play because they are mesmerizing.
In PYJO, I love being around people who are really talented at jazz and enthusiastic about music in general. Even on our 'breaks' we'll play and jam, and it's so fun!
What are your most recent achievements?
I've made it onto the Brawlstars travel team for Philadelphia Roller Derby Juniors! We'll be playing all across the country!
When you are not rehearsing or practicing, what are other hobbies or activities you enjoy?
I enjoy playing roller derby and making music digitally. I'm in a couple of other groups where I play the guitar including the Philadelphia Classical Guitar Society's Ensemble and my high school's pep band. I also play the trumpet, which I perform in my school's symphonic and jazz band. I am in my school's drama program because it's such a welcoming and fun environment, and I like the excitement of putting on a show. I love fishkeeping and have a tropical aquarium with a variety of fish, live plants, and shrimp!
What is one unique attribute about you that people find surprising?
Most people don't know I play roller derby. I think it's partly because many people don't know about roller derby in general, but also because derby players are usually seen as tough or aggressive. In actuality, the derby community is very supportive, and the players are inclusive, love to mess around, and laugh.