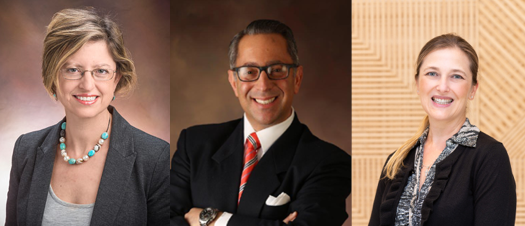 Pictured (left-to-right): Dr. Maria Vogiatzi, Mark Nicoletti, Lana Belotserkovskiy
Philadelphia, PA (October 11, 2023) – The Philadelphia Youth Orchestra Music Institute (PYOMI) is proud to announce the appointment of three esteemed individuals to its Board of Trustees, enhancing the organization's commitment to nurturing young musical talent and enriching the cultural landscape of Philadelphia. Dr. Maria Vogiatzi, Mark Nicoletti, and Lana Belotserkovskiy have joined the board, bringing a wealth of expertise and passion to the institution.
Board of Trustees Chairperson Robert Pick expressed his excitement about the new appointments, stating, "We are thrilled to welcome Dr. Maria Vogiatzi, Mark Nicoletti, and Lana Belotserkovskiy to the PYO Music Institute's Board of Trustees. Their diverse backgrounds and unwavering commitment to the community align perfectly with our mission to foster artistic growth and personal development in young musicians."
Louis Scaglione, President and Music Director of PYO Music Institute, echoed this sentiment, saying, "The addition of Dr. Maria Vogiatzi, Mark Nicoletti, and Lana Belotserkovskiy to our board represents a significant step forward for PYO Music Institute. Their collective expertise and dedication to music education will enhance our ability to provide outstanding musical experiences and opportunities to our students."
Dr. Maria Vogiatzi, a prominent Pediatric Endocrinologist at the Children's Hospital of Philadelphia (CHOP) and a recognized expert in pediatric endocrinology, has dedicated her career to improving children's health. With her extensive experience in medical research and her commitment to philanthropy, Dr. Vogiatzi will undoubtedly make a significant impact on PYO Music Institute's mission to empower young musicians.
Mark Nicoletti, President and Co-CEO of Philadelphia Suburban Development Corp, has a long history of volunteerism and community engagement. His leadership in commercial real estate development and his dedication to organizations such as PAL, the Philadelphia Archdiocese, CHOP, Fulton Bank, and Jefferson, make him a valuable addition to the board. Mark also chairs the board of the Frazier (Ken) Family Coalition, demonstrating his commitment to community well-being.
Lana Belotserkovskiy, Vice President of Development for Tokio Marine North America Services and an accomplished information technology officer, brings a unique blend of technical expertise and leadership to the board. Her experience in technology development for insurance and educational software products, coupled with her dedication to creative solutions and team management, will be invaluable to PYO Music Institute's growth.
Media Contact:
Julienne Cormier, Marketing & Communications Director – jcormier@pyomusic.org