We are excited to announce PYAO concertmaster, Noëlle Streuber-Eden, as the winner of the Ninth Annual Young Artists Solo Competition! Noëlle will perform the first movement of Wieniawski's Second Violin Concerto on Sunday, May 21, 2023, 3:00 p.m. at the PYAO 28th Annual Festival Concert in Perelman Theater.  First Runner Up is violinist, Elliot Anderson, with the second movement of Mendelssohn's Violin Concerto, followed by Second Runner Up cellist, Isabel Morales, with the fourth movement of Elgar's Cello Concerto, and an Honorable Mention to violinist, Suri Ahn, with the third movement of the Bruch's First Violin Concerto.   Congratulations to all who auditioned and placed in the competition for their hard work and dedication! Learn more about the musicians below.
The Young Artists Competition is a prestigious solo competition open to all members of the Philadelphia Young Artists Orchestra (PYAO). Applicants audition live at the PYO Music Institute's Rittenhouse Square location, St. Patrick's Hall (Philadelphia, PA), for a distinguished panel of judges. The winner is featured as a soloist in the PYAO Annual Festival Concert in the Perelman Theater of The Kimmel Center for the Performing Arts. For tickets to this performance on Sunday, May 21st, click here.
About the Winners: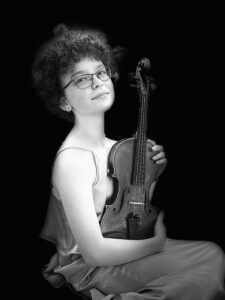 Noëlle Streuber-Eden, Winner
An eighth-grader with a knack for advanced mathematics, violinist Noëlle Streuber-Eden is a transplant from the Greater Chicago Area and currently studies with Guillaume Combet in Philadelphia, PA. She has performed in master classes for Almita Vamos, Jennifer Koh, Jung-Min Amy Lee, and Angela Sin Ying Chan and also taken lessons from Desirée Ruhstrat. Noëlle currently serves as the Concertmaster of the Philadelphia Young Artist's Orchestra and can often be heard performing at Temple University's Center for Gifted Young Musicians and with the Settlement Music School's Ann Newman String Quartet, for which she has received an Advanced Study scholarship. Noëlle has won multiple national and international recognitions and awards, most recently the Ninth Annual Concerto Competition of the Philadelphia Young Artists Orchestra (2023), the 2022 International Clara Schumann Competition, the 2022 Opus Statewide Competition, and the 2022 Elite International Music Competition (which will take her to Carnegie Hall later this year). She lives on the Main Line with her family and her two cats, Herman and Millie.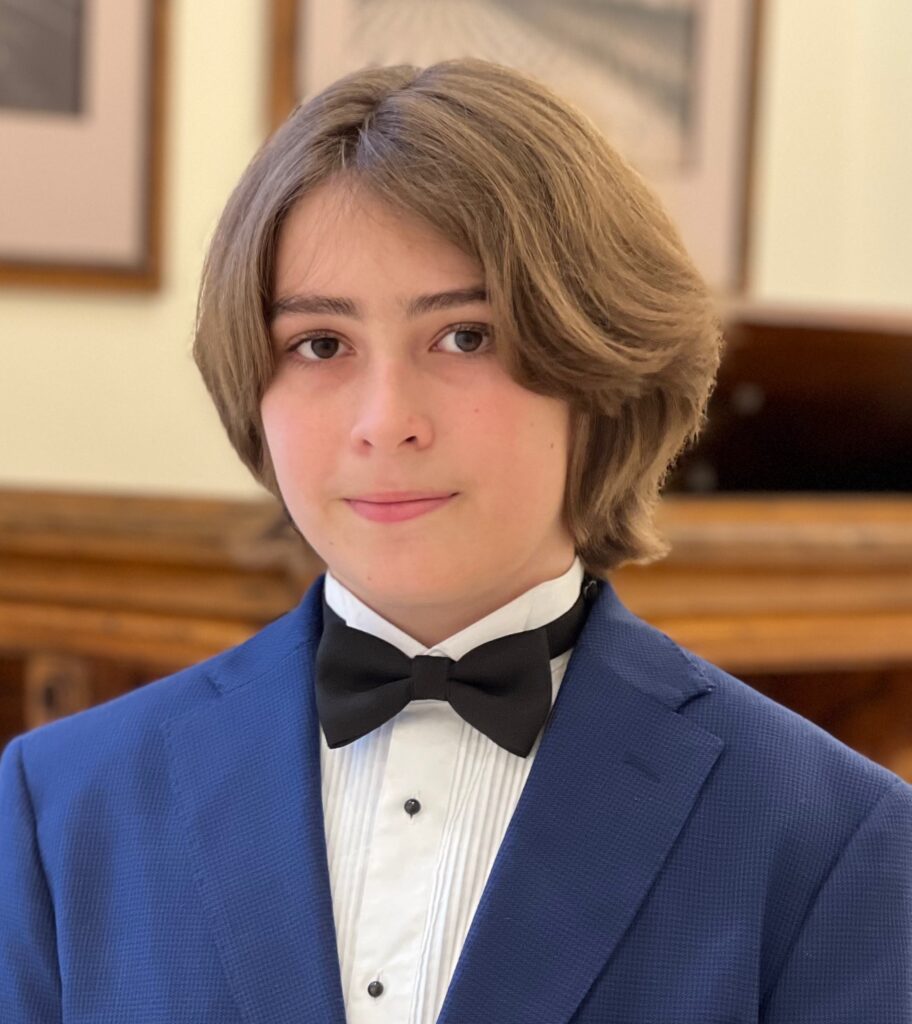 Elliot Gulacsi Anderson, First Runner Up
Elliot is a seventh-grader at Friends Select School in Center City, Philadelphia. He studied violin with Viktor Repik for 6 years and is currently a student of Juliette Kang, First Associate Concertmaster of the Philadelphia Orchestra. Elliot has been a scholarship recipient for violin studies at the Settlement Music School in Philadelphia since age 9. He has been a member of the Philadelphia Youth Orchestra Music Institute since 2019 and is currently playing in the Philadelphia Young Artists Orchestra. Elliot joined Temple University's Center for Gifted Young Musicians in 2022, where he participates in the Youth Chamber Orchestra as well as in a string quarter. Elliot has been attending summer music festivals since he was 7 years old, first the Philadelphia International Music Festival between 2017-2021 and last year the Heifetz Institute 2022 Summer Session. Elliot participated in violin master classes with Dara Morales, Assistant Principal Second Violin of the Philadelphia Orchestra. He also studied conducting with Maestra Erwin at the Philadelphia Youth Orchestra Music Institute and played the piano under the mentorship of Dolly Krasnopolsky. Elliot was recently awarded First Runner Up at the Philadelphia Young Artists Orchestra Solo Competition. Besides music, Elliot enjoys math, hiking, kayaking, and building LEGO Technic models.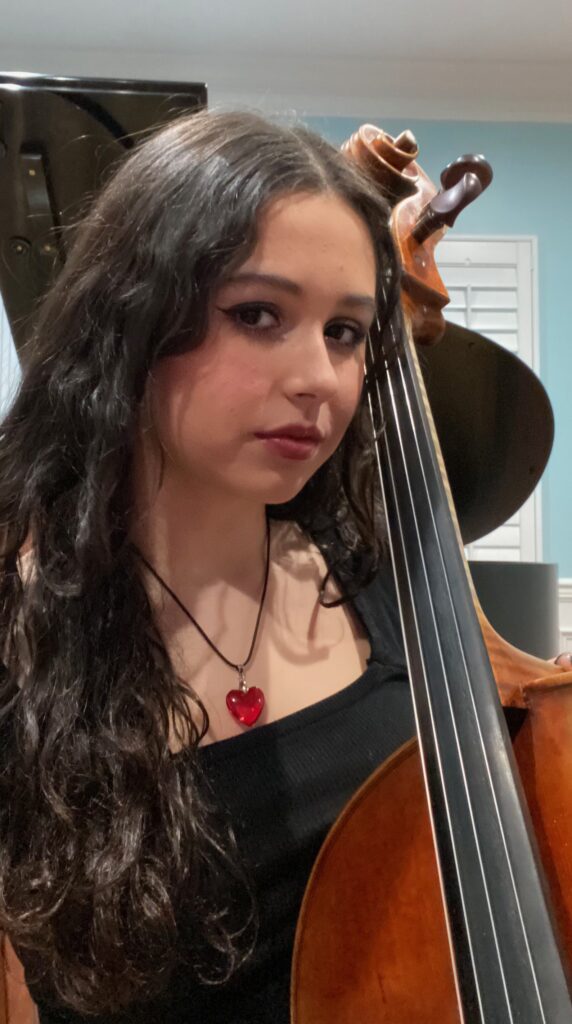 Isabel Morales, Second Runner Up
Cellist Isabel Morales, 15, is currently a sophomore at Girard Academic Music Program (GAMP), where she plays principal cello in the orchestra; sings in the choir, concert choir and All-City Choir; and is in the cast of the musical. Isabel plays in the Youth Chamber Orchestra at Temple University Center for Gifted Young Musicians and is in her second year as a member of Philadelphia Young Artists' Orchestra. She is also the cellist in the Trimmingham Trio at Settlement Music School. During the summers, Isabel has attended Luzerne Music Center and the Dalí String Quartet Music Festival. Isabel started cello at age 4 with Amy Barston. Currently a student of Rachel Freivogel, Isabel has also studied with Yumi Kendall and Christopher Fiore. Isabel enjoys reading, dancing, attending the theater, and going to the beach.
Suri Ahn, Honorable Mention
Suri Ahn, age 14, is a 9th grader at Conestoga High School. She has served as the assistant concertmaster of the Philadelphia Young Artists Orchestra. She has participated in the PYO music institute internship program and performed in many orchestras and ensembles including her school orchestra, Pennsylvania Youth Orchestra String Ensembles and Young Musicians Debut Orchestra. Suri was the winner of the 2021 Warminster Symphony Orchestra Young Artist Competition, making her solo concerto debut with the orchestra. She won 1st prize in the 2023 Crescendo International Competition, 1st prize in the 2022 Charleston International Romantic Music Competition, and 1st prize at the Pennsylvania State level in the 2022 OPUS Music Competition. Suri was also awarded 2nd place at the 2022 Tri-County Youth Festival Junior Strings and 2nd place at the 2022 Bucks County Youth Concerto Competition, for which she will perform for the Delaware Valley Music Club. She was invited to perform for the Pennsylvania Academy of
Ballets "Dance into Spring 2022" in Philadelphia. Suri has been playing the violin since the age of six and currently studies with Sylvia Ahramjian as a scholarship recipient at the Nelly Berman School of Music. She also has masterclasses with Dara Morales of The Philadelphia Orchestra. Recently, she received the Interlochen Orchestral full scholarship from Interlochen Center for the Arts. Besides Music, Suri plays golf on her high school Varsity Golf Team. She enjoys math, history, and art classes at school.