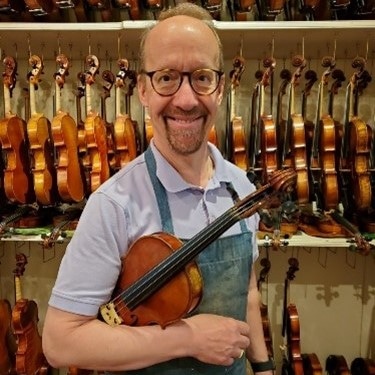 When David Michie of David Michie Violins, LLC, in Center City Philadelphia first learned that Tune Up Philly was being launched 10 years ago, he immediately offered to donate instruments to the organization. After all, he believes everyone should have access to the life-enhancing benefits of music. Tune Up Philly – Orchestra Pathways Program (TUP) is the Philadelphia Youth Orchestra Music Institute's (PYOMI) after-school music program for children in under-resourced communities.
As a PYO Music Institute alumnus, whose sons also participated in PYO (now alumni as well), Michie was committed to help launch TUP. One year after he made this extraordinary donation, he was invited to serve as a director on the Board of Trustees. That was nine years ago. Michie said, "PYO changed my life as a young adolescent in offering me a level of musical excellence that was unparalleled in the Delaware Valley. Without the Philadelphia Youth Orchestra, I would have been unable to experience world travel and other cultures as a young man. Now as an adult living and working in Philadelphia, it's an honor to serve as a member of the Board of Trustees and to assist the organization in its never-ending goal of providing students in the tri-state area paramount musical opportunities."
Most recently, Michie outfitted six Tune Up Philly students with instruments – three received ¾ size violins and three received full-size, exactly what the students needed. Paul Smith, the Director of Tune Up Philly explained. "We had expanded enrollment this year, and some students just needed larger instruments, so we made arrangements with David to accommodate the growing kids. David helps us throughout the year by repairing instruments, connecting us with donation opportunities, and, of course, with supplies and strings. I can't imagine TUP without the support of David Michie."
Michie has been in business with his violin shop at 1714 Locust Street in Philadelphia for over 35 years, helping musicians from the Philadelphia Orchestra, The Curtis Institute of Music, and other professional groups throughout the country. He also enjoys working with families who are just starting their musical journey. Michie has always strived to provide a pleasant and pain-free experience for his clients. His shop's focus is on everything related to violins, violas, cellos and bows from sales to service.
Maestro Louis Scaglione, President and Music Director of PYO Music Institute is indebted to David Michie's ongoing support of the organization. He said, "Not only is David a dedicated business and civic leader, his experience as an alumnus and parent makes him knowledgeable from a personal perspective. His dedication to us is very much appreciated. He is truly a gift to our Institute."