PYO Music Institute OVATION AWARD honors an outstanding music teacher in the Delaware Valley Region who, while imparting musical knowledge, builds character, self-confidence and capabilities that position students for success in every aspect of their lives. The OVATION AWARD highlights the significance of music education and applauds the positive impact of music teachers on the greater community.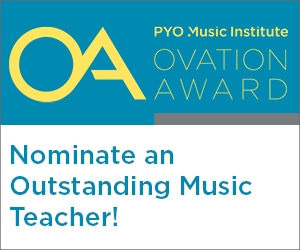 The PYO Music Institute 10th Annual OVATION AWARD
For Inspiration and Outstanding Leadership in Music Education
The 10th Annual Ovation Award Recipient will be announced on Sunday, June 4, 2023 at Philadelphia Youth Orchestra's 83rd Annual Festival Concert.
Sponsored by
Jacobs Music Company, J.W. Pepper, and WRTI
Submit a Nomination
Who is Eligible?
Music teachers in the Delaware Valley Region who teach music in public or private schools (Kindergarten through College), private studio teachers, and community music program teachers are eligible.
Who can Nominate?
ANYONE, current student or former student of any age, can nominate a music teacher for the OVATION AWARD!
How to Nominate?
Nominators are asked to submit a brief application and statement of no more than 250 words, answering the question: "How Has Your Music Teacher Changed Your Life?"
Selection Process
Top Ten Finalists and one Grand Prize Winner will be selected by a Blue Ribbon Panel, consisting of representatives from regional universities, colleges, conservatories, and institutions.
Prizes & Awards
The Ovation Award Recipient will be announced and presented in June with an award tribute, cash prize, and other recognition from our sponsors. All finalists will each receive a recognition award from our sponsors. Additionally, the Winning Nominator will be recognized.
Timeline
Nomination Application Deadline: Friday, March 31, 2023
Finalist Notification: Friday, April 28, 2023
Recipient Announced: Sunday, June 4, 2023
Questions?
Please contact the PYO Music Institute at ovationaward@pyomusic.org.
View the 2022 Ovation Award Presentation here.
OVATION AWARD RECIPIENT – 2022
Sergei Nuissl – Phoenixville, PA In Memory – July 29, 1958 – March 7, 2022

FINALISTS – 2022
Walter Choi – Turnersville, NJ
Vladimir Dyo – Mount Laurel, NJ
Joanne Erwin – Cherry Hill, NJ
Noelle Grand – New Hope, PA
Michael Ludwig – Cherry Hill, NJ
Sergei Nuissl – Phoenixville, PA In Memory – July 29, 1958 – March 7, 2022
Christian Oatts – Philadelphia, PA
Lionel Thomas – Wilmington, DE
Scott Wagner – Philadelphia, PA
Submit a Nomination