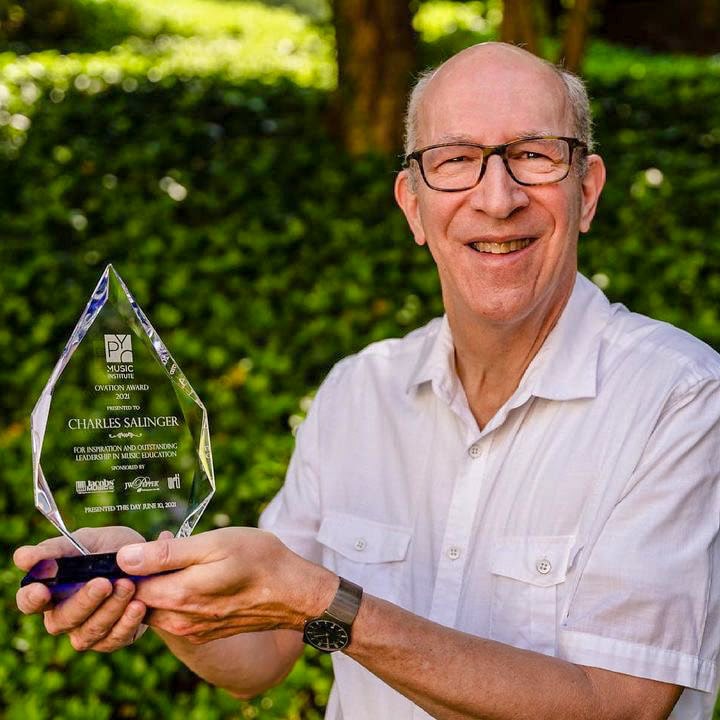 The PYO Music Institute Ovation Award recognizes inspiration and outstanding leadership in music education. Since the Award launched in 2014, hundreds of current and former students have nominated individuals who are passionate about teaching music. This year there were two finalists who are PYO alumni: Ovation Award Recipient Charles Salinger and Finalist Christopher Simon.
Charles Salinger is a dedicated teacher and has been playing principal clarinet in the Delaware Symphony since the 1980s. He plays principal clarinet with the Pennsylvania Ballet Orchestra and the Opera Delaware Orchestra as well. For over 40 years, he has substituted on saxophone as well as clarinet with the Philadelphia Orchestra. When receiving the Ovation Award at a surprise presentation outside his home, Salinger said, "Receiving this honor made me think of my days when I was first in the youth orchestra, the first place I got real experience in an orchestra. I really needed PYO because I came from a small town, Easton PA, and there wasn't that kind of training available. I learned to take direction from a conductor and understand what he was trying to do. There were great players in PYO, very intellectual and musically gifted. I learned so much, even just how to get along with other players – it all matters. These experiences not only taught me to be a better musician, I learned tips for teaching. I talk to my students about etiquette, how you treat people in an orchestra, showing respect to your other players."
Christopher Simon has a strong family connection to PYO. He said, "When I was in PYO, it was called Youth Orchestra of Greater Philadelphia. My older brother Rob played bass, and he joined the group in 1978. He liked it so much that when Erika, our older sister was at West Chester as a music major, she played flute and joined in 1980. I was proud to join, too. We all played under Maestro Primavera." Today Chris is a highly respected music teacher at Council Rock School District, with a musical family as well. His daughter Maggie started playing violin at five years of age. She auditioned for PYO in 10th grade in 2012. She first joined PYAO, then moved up to PYO. Even when she went to West Chester, she stayed in PYO. His wife and three children play music together in recitals. Music means everything to Chris, a passion he extends to his students today.