Serving Students, Celebrating in Style at the Legacy Gala
Thank you to all who supported and attended our Legacy Gala on Friday, March 25, at The Union League of Philadelphia! The evening was an immense success, raising over $270,000 for PYO Music Institute's scholarship fund and Tune Up Philly program and celebrating Maestro Louis Scaglione's 25 years of dedication to PYOMI.
The Gala began with an Art Show and Sale by Studio Incamminati and cocktail reception in the League's Lincoln Memorial and Library Lounge. Guests were greeted with champagne, enjoyed the Studio's selection of contemporary realist art for sale, and mingled with friends and artists doing live painting demonstrations.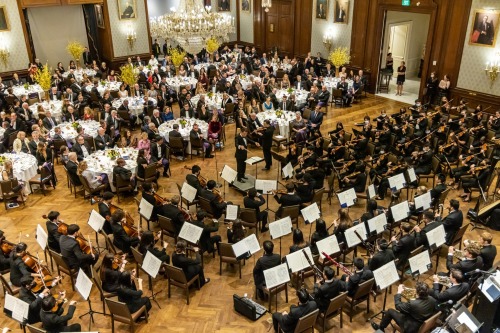 Moving into the Union League's grand Lincoln Hall at 7:30pm, 250 guests enjoyed a program with Master of Ceremonies, Kevin Gordon, featuring performances by the Philadelphia Youth Orchestra with guest soloist David Kim, concertmaster of The Philadelphia Orchestra. City of Philadelphia representative Sheila Hess and councilmembers David Oh and Helen Gym presented Louis Scaglione with proclamations recognizing his work. The Union League Bowl, a coveted award for Union League members who have demonstrated exemplary service to their community, was also presented to Louis Scaglione by President Craig Mills. Finally, a moving tribute video created by our partners at J.W. Pepper honored Louis for all he has done for the youth of Philadelphia and his work in training the leaders of tomorrow. 

Following performances, presentations, and dinner, patrons joined on the dance floor to the music of the Eddie Bruce Orchestra and danced the night away!
We are immensely grateful to you—our dedicated donors, patrons, friends, students, parents, volunteers, and community members—whether you joined us in person or in spirit, at the Legacy Gala. Thank you for helping to make the evening such a memorable and resounding success!
View Legacy Gala Photo Gallery