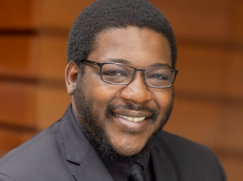 Kenneth T. Bean
Director & Conductor, YMDO
Kenneth began seriously studying music as a high school student when he attended the Baltimore School for the Arts. He matriculated to Oberlin Conservatory where he earned a Bachelor of Music in Trumpet Performance, following which he completed a Master of Music Education from Jackson State University.
As a trumpeter, Kenneth has enjoyed a thriving freelance career, playing with such ensembles as Mannheim Steamroller, Sphinx Symphony Orchestra, Soulful Symphony Orchestra, Black Pearl Chamber Orchestra and Pennsylvania Sinfonia Orchestra. He can be heard on recordings with Symphony in C, the Monocacy Chamber Orchestra, and hip-hop artist Thee Phantom & the Illharmonic Orchestra.
Following a desire to pass on the gift of music, Kenneth has worked with a number of music education organizations, including Play on, Philly! and Settlement Music School, both of which serve Philadelphia youth. He has also taught at summer festivals, such as Kinhaven Music School and Luzerne Music Center. He currently serves as Associate Director of the Primavera Fund, an initiative to fund music education for youth in Philadelphia.
In recent years, Kenneth has been most fortunate to engage his passion for conducting. He held the position of Music Director/Conductor of the Junior String Philharmonic of the Lehigh Valley from 2011-2015. In 2016, he was appointed Music Director/Conductor of the Young People's Philharmonic of the Lehigh Valley. He also serves as the Conductor for the Symphony in C Youth Orchestra and and was recently appointed as Assistant Conductor of Symphony in C. Kenneth currently lives in West Philadelphia.