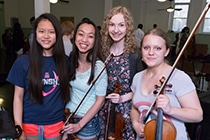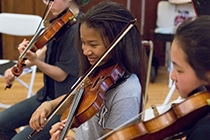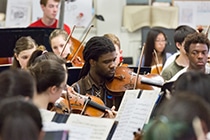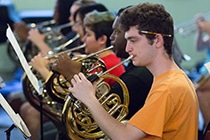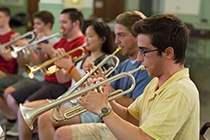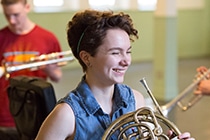 Rehearsals are free and open to the public.
Please drop in and listen as the newest generation of extraordinary musicians prepares for the future.
Large groups please call in advance: 215 545 0502
Philadelphia Youth Orchestra
Saturdays, 8:30 a.m. to 12:00 p.m.
Philadelphia Young Artists Orchestra
Sundays, 2:00 to 5:00 p.m.
Young Musicians Debut Orchestra
Saturdays, 1:00 to 3:30 p.m.
Bravo Brass
Mondays, 6:30 p.m. to 8:30 p.m.
Office and Rehearsal Location
Saint Patrick's Church Hall
240 S. 20th Street
Philadelphia
Map/Directions
Discount Parking for rehearsals for members
Discount parking will be available at the Parkway Corporation Garage at 1845 Walnut Street (on Rittenhouse Square). The garage can be entered from either Walnut or Sansom Street. Persons who pick up a parking voucher from the sign-in table can park up to four hours for a flat rate of $8.00.
Prysm Strings
Fridays, 6:30 p.m. to 8:30 p.m.
Prysm Strings Rehearsal Location
Bryn Mawr College
Taylor Hall
101 N. Merion Avenue
Bryn Mawr, PA 19010
Map/Directions